Description
Tired of seeing 
pet hair & 
lint
stuck on
freshly washed clothes
?
The revolutionary hair remover filters and collects hair & dirt during laundry as the residues flow and be trapped into the inverted cone-shaped net bag.

HOW DOES IT WORK:
As the washing machine swivels to clean & rinse items, dirt in washing items flows on the surface of the gyre.


Laundry Dirt & Pet Hair Remover features ultra-lightweight construction that flows and catches annoying hair & residues flown up, thanks to the inverted cone shape design to trap dirt.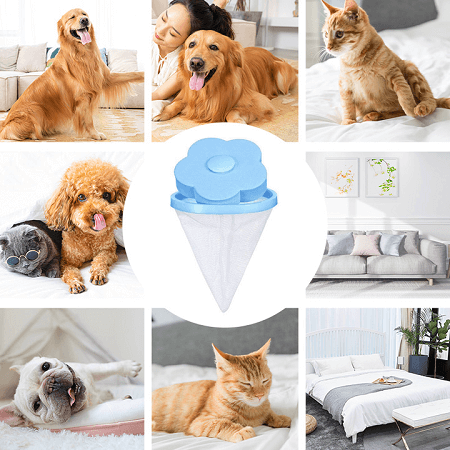 FEATURES:
Collects & removes the finest pet hair, dirt, residues in the laundry

Prevents re-washing of your laundry
Saves laundry detergent, water & time
Works with Powder and Liquid Detergents
Reusable, durable & 

ultra-lightweight to flow

 & collect flowing residues
Inverted cone shape design to trap dirt
Super foaming ability

Hypoallergenic, safe for kid's clothing
SPECIFICATIONS:

DIRECTIONS:

*Recommended to use 2 or more for washer capacity larger than 8kg
PACKAGE INCLUDES:
1PC X Laundry Lint & Pet Hair Remover
Function: they can absorb the hair into the net to make your clothes cleaner when washing clothes with machines
Easy to use: they will float right on the top of your washing machine, And they are easy to clean

Washing Machine Dirt Collector Bag
Rs. 995.00